TESTIMONIALS FROM OUR CUSTOMERS

Have a testimonial from a successful hunt or fur harvest after using a Snare One product?

Snare One would like to hear about it!
Contact us and tell us your story, and we'll post it right here for the world to see!





My trapping buddy and I wanted to say thanks for the help getting our trapping journey started. We put our traps out last Friday and only four days later we had our first catch, a nice young coyote. After only one catch, we are both hooked thanks to your recommendations and generosity.
- Jeramy and Andy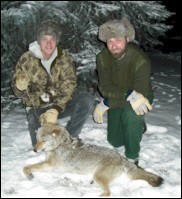 Hey Newt, I'm Rob Lecrone from Illinois and I bought some beaver snares from you a while back. Just wanted to let you know they worked great. I catch beaver all the time in 330's and foot holds, but this was my first time snaring. I had some trouble with them knocking my snare off of the support wire,but after I got this fixed I picked up two in one night 45 and 52lbs.After dispatch I washed there socks like in your video and there wasn't a mark on them when I skinned them.Thanks for the help.Those snares are a lot lighter to carry than1/2 dozen 330s and Mb750s and drowner rods.Thanks again.


Newt, I thought I'd drop you a quick note and let you know that I received the bottles of Predator Long Distance Call marten lure and "HOT PUSSY" cat call about a month ago. I have to say that we're really impressed with the Predator Long Distance Call for marten it seems to be holding up well in the cold weather and that's what we need for the marten here.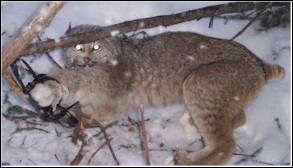 Speaking of cold weather, I have to tell you that the "Hot Pussy" that you mixed with 40% glycerin still pours at -48 F (our current temp) even after sitting for over a week with no agitation! As far as if it works for lynx, let me tell you that it obviously Works for lynx!!! We had one cat that walked over four miles of our trails, passing numerous set and showed no interest in them. But when he got to the set with the "Hot Pussy", he was waiting for us when we got there! The sets with "Hot Pussy" have all been extremely active and even when there is a lynx already in the trap, the sign indicates that others have explored the set!!!!! We'll definitely be adding "Hot Pussy" to our arsenal!! The pictures attached are of two lynx both taken on your product. The cat in the coil spring is the one I mentioned in this message, a nice prime tom. Thanks again, I'll keep you appraised of our progress. Happy New Year!!!!

Lantz (North Pole, Alaska)

Just wanted to show you the Boar I snared (your snare) last week. About 250 pounds
- Ron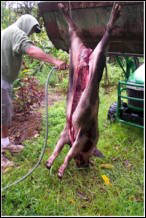 Used the things I learned from your book and caught this pig. Most of the time I catch them with dogs but this place is not big enough. Thanks Newt this has opened up a few more places to remove hogs that are trap shy
- Bubba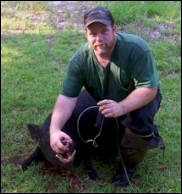 Hi ya Newt,
Here's a photo of my 1st day check. I hung 34 of the 4 doz snares I bought from you at two locations. I certainly like the 5/64", 1x19 snares and how you "load" them.
- Mike "Seldom" Fales, Michigan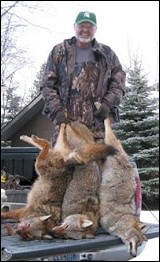 Thanks for the quality snares Newt. Their heavy duty construction stands up to the rigors of northern trapping.
- Brian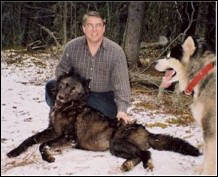 While on my first Whitetail Classic Hunt in Missouri, which lasted three days, I bagged the largest buck of my life on the third and last day. Never having much faith in deer lure I spent the first two days watching does. Then on the last day, I decided to use your Doe-In-Heat lure which I put on a stump below my stand. At about 10:00 a.m. I saw a large buck coming upwind to the stump I had placed the lure on. One shot from my 7mm and he was mine! He came in 4th place out of 48 buck bagged and I won $4,500 cash and a free $2,000 hunt next year! I'm a believer now!
- Ted W., Pennsylvania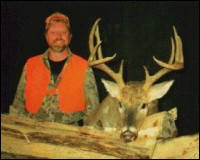 I received a bottle of Doe-In-Heat lure from Newt, and on opening day of the 2001 Michigan firearms deer season, I had a 6-point buck walk right to me, within range where I could have stuck my rifle out and touched him (simply because I had accidentally dumped Doe-In-Heat right on my blind as a cover sent), surprising I never got a shot once he figured out I wasn't a doe.. The very next day I laid the sent down the way your supposed to, and 2 hours later this 8-pointer came into the tiny clearing, hot on the little trail of scent I left.
- Corey Lasley, Michigan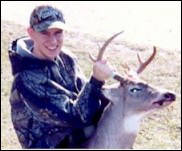 Newt, After dipping all my new traps in your Formula One I had a lot left as
I bought a gallon at Mason City. I know I can store the stuff but I have a new use for you to advertise. I used the Formula One (it was tan or brown- can't remember) to color all of my new conibear buckets. I just put the remainder in a shallow tub and rolled the buckets in it. It gave a great appearance as some ran down the sides as it dried. It stays on great (much better than spray paint). I'll let you know if it stays on through the
season and if it does I'll bring pictures and maybe a bucket to the NTA in
Ohio next summer for you to use as a sales pitch. They look great now.
Almost like instant camouflage.
Good trapping
- Joe House

Newt, The F1 arrived yesterday afternoon. I am somewhat disappointed
though.... You have managed to turn a 4 -5 hour process of treating 100+ traps into a 30 minute job. This leaves me way too much time for my wife to add things to my "honey do" list. LOL
- Bill



I would like to say thanks for a great dip. I will have to admit I was kind of skeptical about it when I heard you talking about it. but when you promised me a money back guarantee and took the time to show me how easy it was to use I figured what did I have to lose. now I can not say enough about this dip. I will say I will use no other dip. here in Illinois we have a
wide variety of waters and soils to trap in I trap in clear and brackish water. and had no traps rusted. My first year with formula 1 found me taking coon beaver and rats out of conibears that I dipped. I found with formula 1 I did not have to scrape any triggers and I had no dry fired traps. and when you can take as many as 20 coon in a trap before you need to redo you can
not go wrong. Newt thanks again you can hold your head hi with this stuff. -
- Neal, Illinois



Yeah, I was a dye and wax fan and this year I dipped all my traps in FORMULA #1. Installed a few traps on some farms yesterday and so far no digging. Caught a coyote yesterday and this morning had 7 visitors and they were in my traps...6 fox and 1 coon! No more wax for me!!! Now I need a broom for tomorrow, too much snow!!!
- Stef, Québec, Canada


Newt, We've had a snapping turtle in our pond that we've tried to catch for the past 3 years. We tried milk jugs with hooks, the neighbors boy's wire cage, which we found completely bent where it had crawled in, ate the bate, and crawled out, bow hunters, etc. with no success. We put your lifetime turtle trap in the pond and 3 days later we "Snared One" He was so big he completely filled the trap. He was over 2½ feet long. The trap is going back in to see if there are any of his buddies around. Your traps work.
Thanks John T. Beavercreek, Ohio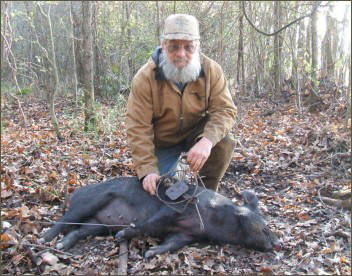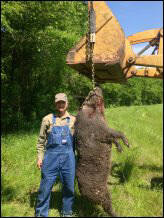 Thought you might be interested in seeing this hog that I caught using the snares I purchased from you. The hog is a sow and notice the scales have topped out at 300 pounds. The picture shows she was caught by the foot. I enjoy using the snares and hope to catch more of the hogs that are damaging our crops.
- James Isbell

Hi Newt,
Really like the snare you sent! That double loading sure makes them babies FAST!

Read thru the book twice already,excellent info!
I'll be ordering more snares soon!

Been reading thru posts on Tman and do you recommend 1x19 cable for coyotes? It sure makes 7x7 3/32nds look like rope!

Thanks again,
Mark W.
Woodchuck Snares
Snares are fantastic! Caught it perfectly around the neck! Told my wife I'll wait til it cools down so we can eat thrm. She said "no,get rid of them"

Thanks again,
Mark Wilson

Hey Newt
I got a pack of your new locks to try at the convention last month. Just wanted to say that they are working great. Fastest and smoothest I have used. Plan on switching all my locks over next year.

John Kiseli


Snare One
Bates Lane, Port Republic, NJ 08241
Phone 609-338-7011